Healthy holiday side dishes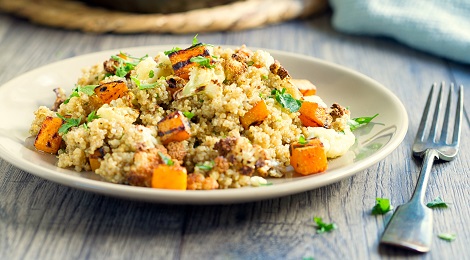 Healthy holiday side dishes
"When you share beautiful, healthy dishes with family and friends, you are showing your concern about their health and wellness," says Nancy Waldeck, a chef at Cancer Wellness at Piedmont. "You don't have to tell anyone they are healthy – healthy doesn't have to be bland, boring or beige."
Tips to make holiday dishes healthier
Waldeck recommends the following tips to make festive side dishes lighter and more nutritious:
Get creative with color and texture. "When preparing side dishes for the holidays, think about the textures and colors of your food," she says. "Not everything should be creamy and indulgent. Simple roasted Brussels sprouts, broccoli or cauliflower can be the perfect foil for the rich foods of the season. A clean green salad may be just the perfect accompaniment to the loaded table of goodies. Platter your salad greens and include crisp shredded carrots or radishes, halved grape tomatoes or sliced baby peppers. Top the veggies with crunchy pumpkin seeds. Serve with a light, bright lemon vinaigrette."

Choose lighter dairy ingredients. Trade heavy cream for nonfat Greek yogurt in your casseroles. You can also substitute coconut milk if the flavor works with the ingredients. Swap cow's milk for unsweetened almond milk to save calories and fat.

Swap dairy for pureed vegetables. If you prefer to go dairy-free, use pureed vegetables like canned pumpkin or roasted butternut squash to make your recipes creamier. For example, use roasted squash in place of ricotta cheese in lasagna.

Mix things up with ancient grains. Instead of traditional rice or pasta, boost the flavor nutritional benefits of your dish with ancient grains like farro, quinoa or barley. Waldeck suggests adding dried cranberries or cherries, roasted butternut squash and toasted Georgia pecans to make a seasonal and regional side dish. "Ancient grains will be a nutty contrast to heavier dishes and add fiber and protein to the spread," she adds.

Roast your veggies. Roasting your vegetables until they are crispy and caramelized will give them a big flavor boost without excess salt or butter. Toss the veggies with a homemade vinaigrette and arrange on a platter for a colorful, attractive side dish.

Go for cool and crisp recipes. "A side for the holidays doesn't have to be warm," she says. "Shake it up with crisp greens, a citrus fruit salad or a crunchy and refreshing apple salad."
Healthy holiday side dish recipes
Bring one of these fun, festive dishes for your next gathering:
Check out more recipes and nutrition tips from Cancer Wellness experts.
Tags
Suggested Articles