How to make holiday baking healthier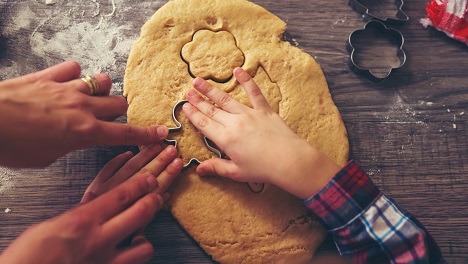 How to make holiday baking healthier
For many of us, baking is a special part of the holiday season.
"Baking fills the home with wonderful aromas invoking nostalgic feelings of home, comfort, friends and family," says Nancy Waldeck, a chef at Cancer Wellness at Piedmont.
Making treats to share with loved ones can bring extra joy to the season.
"It's not the holidays without cookies to share and enjoy," she says. "I love making cookies that are a little unexpected and full of the flavors of the season – cinnamon, chocolate, nuts and citrus."
Healthier holiday baking tips
Waldeck suggests the following tips to make baked goods lighter and more nutritious:
Cut back on sugar. You can exclude ¼ of the sugar in any cookie recipe without sacrificing the sweetness, she says. Any more than that, and you'll lose the texture of your cookies.

Use egg whites. "For cookies that require two eggs, use one large egg and two large egg whites," explains Waldeck. "You'll reduce the fat in the cookies and they will still taste great."

Cut back on dairy. Trade whole milk for almond milk to save 100 calories and 5 grams of fat per cup.

Use healthier flour. "Add fiber and bulk to your cookies by substituting a quarter of the flour called for in the recipe with whole wheat flour or make them with whole wheat pastry flour instead of all-purpose flour," she says. "Whole wheat pastry flour is ground so fine you can swap it one for one for all-purpose flour."

Add nutritious ingredients. Stirring nuts or seeds into your cookie dough will add protein, fiber and healthy fat, which will help you feel fuller longer.
Healthier holiday dessert recipes
Try these healthier dessert recipes this season:
Check out more recipes and nutrition tips from Cancer Wellness experts.
Tags
Suggested Articles