Chocolate chip almond cookies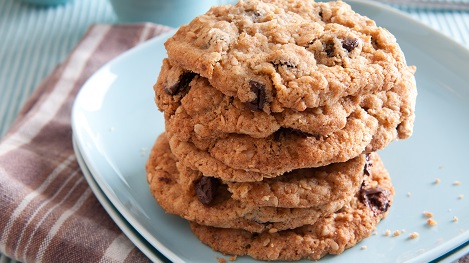 Chocolate chip almond cookies
Try this healthier cookie recipe from Nancy Waldeck, a chef at Cancer Wellness at Piedmont.
Ingredients:
1 cup whole wheat pastry flour

3/4 cup almond flour

1/2 teaspoon baking soda

1/2 teaspoon fine sea salt

1/4 cup unsalted butter

1/4 cup grapeseed oil

1/3 cup raw sugar (turbinado or demerara)

1/3 cup brown sugar

1 large egg

1 teaspoon vanilla extract

1 cup chocolate chunks (at least 70% cocoa solids)
Step one
Preheat oven to 350 degrees. Line two baking sheets with parchment paper or coat with nonstick spray or oil.
Step two
In a medium bowl, whisk together almond meal, flour, baking soda and salt.
Step three
Using a mixer in a large bowl, beat butter until fluffy. Add oil, sugars, egg and vanilla and beat until smooth. On low speed, add in the dry ingredients until just combined. Stir in chocolate chunks.
Step four
Drop dough by heaping teaspoonful onto prepared pans, leaving about one inch between cookies. Bake for about 15 minutes until firm around the edges and golden brown. Remove from oven and allow to cool completely.
Check out more recipes and nutrition tips from Cancer Wellness experts.
Tags
Suggested Articles