Crunchy orange oatmeal cookies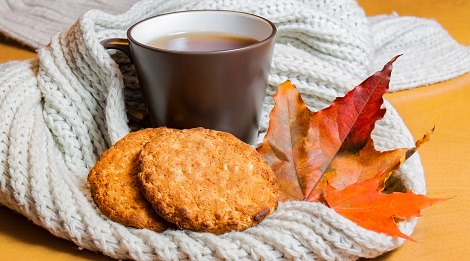 Crunchy orange oatmeal cookies
Try this healthier cookie recipe from Nancy Waldeck, a chef at Cancer Wellness at Piedmont.
Yield: Approximately 32 cookies
Ingredients:
2 and 1/4 cups plain rolled oats

3 tablespoons fresh orange juice

Zest of an orange

1/2 teaspoon baking powder

1/2 teaspoon baking soda

1/4 teaspoon fine sea salt

1/4 teaspoon freshly grated nutmeg

1/4 teaspoon cinnamon

1 cup whole wheat pastry flour

3 tablespoons unsalted butter, softened

3 tablespoons avocado or grapeseed oil

3/4 cup dark brown sugar

1 large egg white

2 teaspoon vanilla extract

1/4 cup raw sugar
Step one
Preheat the oven to 350 degrees. Prepare two baking sheets with parchment paper.
Step two
Stir together the oats, orange juice and zest in a bowl and set aside.
Step three
Stir together the next six ingredients, from the baking powder through the flour. Set aside.
Step four
With a mixer, beat the butter and oil until well-blended. Add the brown sugar, egg white and vanilla. Beat until smooth. Beat in the flour mixture and then stir in the oatmeal mixture.
Step five
Pinch off and roll the cookie dough into one-inch balls. Flatten them with a glass dipped in the raw sugar. Bake the cookies for eight to 10 minutes.
Check out more recipes and nutrition tips from Cancer Wellness experts.
Tags
Suggested Articles