Southwest grilled chicken bowls with roasted corn-avocado salsa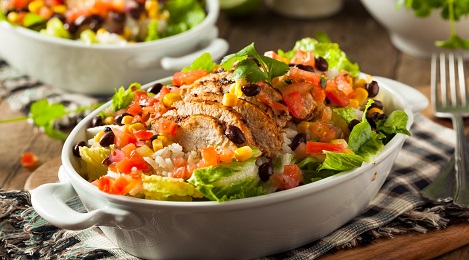 Southwest grilled chicken bowls with roasted corn-avocado salsa
Try this healthier, Mexican-inspired recipe by Beci Falkenberg, a chef at Cancer Wellness at Piedmont.
"The ingredients in this recipe may seem long, but they are easy to find and come together quickly," she says. "You'll be rewarded with a delicious and satisfying one-bowl meal, plus the leftovers are great in wraps, salads or a Southwest casserole…if there's any left."
Grilled chicken and marinade ingredients:
1.5 pounds boneless, skinless chicken breasts

1/4 cup olive oil

4 large limes (or 1/2 cup lime juice + lime zest using ¼ cup for chicken, ¼ cup reserved for salsa)

2 teaspoons minced garlic

2 teaspoons ground cumin

1/2 teaspoon paprika

1.25 teaspoon chili powder

Salt and pepper
Grilled corn and avocado salsa ingredients:
4 ears sweet corn

Olive oil, salt and pepper to coat corn

2 large ripe avocados, diced

1 small red onion, diced

1 small red bell pepper, diced

1/3 cup cilantro, finely chopped

2 tablespoons olive oil

1 tablespoon minced garlic

1/4 teaspoon crushed red pepper flakes

1/4 cup lime juice (reserved)

1 teaspoon cumin
Optional: Serve over salad greens or brown rice, quinoa or cauliflower rice seasoned with a little lime juice and cilantro or parsley.
Step one
Pound chicken breasts into similar thickness to ensure even grilling. Place them in a large plastic zipper bag.
Step two
In a small bowl, whisk together the marinade ingredients. Remove 3 tablespoons to reserve for basting during grilling. Pour remaining marinade in the bag with the chicken, seal the bag and then knead with your hands to ensure all of the chicken is well-coated. Marinate in the refrigerator for at least 30 minutes, but no longer than five hours (marinating too long in an acid can toughen skinless chicken).
Step three
Preheat your outdoor grill or two large grill pans (one for corn, one for chicken) to medium-high heat. Generously oil the grill/pans with an oil-coated paper towel.
Step four
Lightly rub olive oil over the corn and sprinkle with salt and pepper. Place the corn on one half of the grill or one of the grill pans. Grill for about five minutes, then flip to grill other sides until nicely charred on all sides. When cool, slice kernels off the cobs.
Step five
Place chicken on the other side of the grill or second grill pan; season with salt and pepper. Grill the chicken for about four to six minutes per side (until the thickest part of the chicken registers 165 degrees). Baste the chicken with the reserved marinade as you grill and after flipping.
Step six
Transfer the chicken to a plate and cover with foil. Allow the chicken to rest for a few minutes so the juices can re-distribute before slicing.
Step seven
Prepare the salsa by dicing the avocados, red onion, red pepper and cilantro. Toss together in a large bowl. Add remaining ingredients to the salsa. Toss, add salt and pepper to taste.
Step eight
Serve with chicken and optional bowl ingredients, such as salad greens, grains or beans.
Note: Substitute 3 to 4 cups of thawed frozen roasted corn if fresh corn is not available or to save time.
Check out more recipes and nutrition tips from Cancer Wellness experts.
Tags
Suggested Articles