How to make healthier Mexican food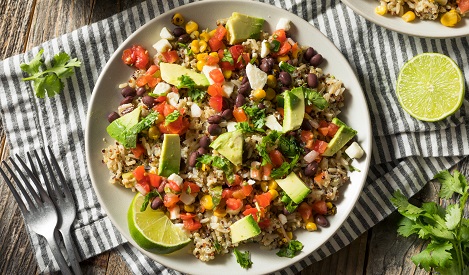 How to make healthier Mexican food
Healthy eating doesn't have to be boring, and you don't have to give up your favorite foods to make progress on your health goals. A great thing about Mexican cooking is that it already includes many fresh vegetables, herbs, spices and lean proteins, says Beci Falkenberg, a chef at Cancer Wellness at Piedmont. Try her tips to make your favorite Mexican-inspired meals healthier.
How to make Mexican recipes healthier
Switch up your proteins. Falkenberg likes to cook with healthier proteins such as lentils, beans, turkey and chicken. For a meaty texture without the meat, she combines lentils or beans with chopped mushrooms.
Load up on veggies. Add more vegetables in place of meat or cheese, and pile your salads, quesadillas, tacos and grain bowls with roasted, raw or sautéed vegetables. Scoop up salsa or guacamole with sliced cucumbers, carrots, jicama, celery or broccoli.
Mix up your grains. Instead of white rice, try brown rice, wild rice, quinoa, barley, farro or amaranth. Or use cauliflower rice to cut back on carbohydrates.
Build a bowl or salad. Instead of using taco shells or tortillas, make a healthy Mexican grain bowl or salad. Start with a base of greens (such as kale, spinach or arugula) and top with healthy protein, roasted vegetables, a whole grain, salsa, guacamole, fresh herbs and spices.
Choose a healthier tortilla. Look for a high-fiber, whole wheat option with as few ingredients as possible. Ideally, you should recognize all of the ingredients on the package.
Add flavor without dairy. Give dishes a boost of healthy fat with guacamole or sliced avocado. Or try a plant-based queso recipe for a creamy texture without dairy. If you choose to use cheese or sour cream, consider using half your usual amount to cut fat and calories without sacrificing flavor, she says.
Experiment with spices and herbs. "Try smoked paprika, chipotle, chili powder, cumin, oregano, jalapeno and cilantro," she says. If you don't like cilantro, opt for Italian parsley instead.
Make your own vegetable stock. Falkenberg suggests freezing vegetable scraps, then placing them in a slow-cooker, covering with water and simmering overnight. Strain out the scraps and refrigerate or freeze the stock. "I like to use this as a soup base instead of an expensive or high-sodium stock from the grocery store," she says.
Ready to make your own Mexican-inspired dishes at home? Try one of Falkenberg's recipes:
Check out more recipes and nutrition tips from Cancer Wellness experts.
Tags
Suggested Articles