Shrimp puttanesca with sweet potato noodles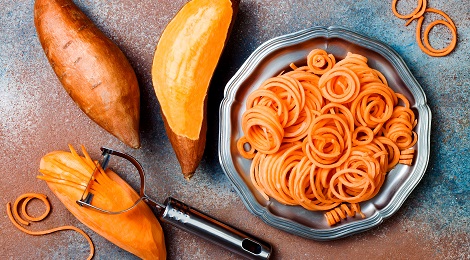 Shrimp puttanesca with sweet potato noodles
Try this healthier, Italian-inspired recipe by Beci Falkenberg, a chef at Cancer Wellness at Piedmont, whenever you are craving pasta.
Ingredients:
1 tablespoon olive oil

2 garlic cloves, minced

2 tablespoons anchovy paste, fish sauce or no-chicken broth (such as Imagine brand or Better Than Bouillon No-Chicken)

1/2 teaspoon red pepper flakes

1 (28 oz.) can diced tomatoes

3 tablespoons capers

1/3 cup chopped Kalamata (or green) olives

3 tablespoons freshly chopped parsley, plus more to garnish

Salt and pepper, to taste

2 large sweet potatoes peeled and spiralized (or substitute butternut squash noodles, spaghetti squash noodles or zucchini noodles)

16 medium shrimp, deveined, shells removed

Grated parmesan cheese or nutritional yeast, optional garnish
Step one
Place a large saucepan over medium-low heat and add in the olive oil. Once the oil heats, add in the garlic, red pepper flakes and anchovy paste. Cook for one minute, allowing the anchovy paste to dissolve (or add fish sauce/broth).
Step two
Stir in the tomatoes and add the capers, olives and parsley. Season with salt and pepper. Stir to mix and let simmer about five to 10 minutes to reduce the liquid and thicken a bit. Then, add in the sweet potato noodles and toss to thoroughly combine. Place a cover on the saucepan and let cook for five minutes, tossing once halfway through.
Note: If you're using spaghetti squash noodles, wait and add them to the pan when you add the shrimp.
Step three
After five minutes, add in the shrimp and cook for about five minutes or until shrimp are opaque and cooked through. Taste and adjust seasonings, if needed.
Step four
Portion the pasta with shrimp into four bowls, and garnish each with additional parsley and grated parmesan cheese or nutritional yeast, if desired.
Check out more recipes and nutrition tips from Cancer Wellness experts.
Tags
Suggested Articles