How to make healthier Italian food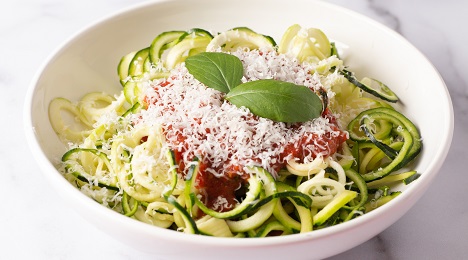 How to make healthier Italian food
Pizza, pasta and cheese probably come first to your mind when you think of Italian food. But did you know you can make your favorite Italian dishes healthier? Beci Falkenberg, a chef at Cancer Wellness at Piedmont, shares her tips to enjoy the delicious flavors of Italian cooking without compromising your health goals.
Healthy ingredients in Italian cooking
Healthy staples in Italian cooking include:
Artichokes

Capers

Chicken breasts

Citrus fruits

Eggplant

Fish

Garlic

Herbs

Kale

Olives

Olive oil

Peppers

Seafood

Tomatoes

Zucchini
How to make Italian food healthier
Choose a veggie noodle. "I like to use fresh vegetable noodles, such as butternut squash, zucchini or spaghetti squash," says Falkenberg. She also uses plant-based dried pasta, such as red lentil pasta, for more protein. Or you can opt for whole wheat pasta.
Add flavor with fresh herbs and spices. Onion, garlic, basil, parsley, capers and crushed red pepper are just a few Italian staples that add zest and nutrition without excess calories or saturated fat.
Make your own pesto. Pesto is a wonderful way to incorporate flavor into your Italian dishes, she says. "I combine garlic, parsley, olives and tomatoes to make a puttanesca pesto that's really versatile and can be used for pasta, sandwiches or wraps."
Cut back on cheese. While cheese can be healthy in moderation and is a classic Italian ingredient, you can make dishes a bit lighter by using pureed cashews, butternut squash, carrots or white beans instead of cheese in sauces or lasagnas, suggests Falkenberg. You can also sprinkle dishes with nutritional yeast, which is fortified with vitamin B12 and simulates a cheesy taste.
Go for tomato sauce instead of cream-based sauce. Fresh tomato sauce – sans butter or cream – is a great way to add vitamins, minerals and a savory taste to your meals.
Use lemon instead of salt to add flavor. Southern Italian cuisine in particular is known for its use of citrus fruit. A squeeze of lemon instead of salt adds bright flavor and vitamin C to pasta, soup, chicken and fish.
Enjoy seafood. Cod, monkfish, mussels, clams, shrimp, sardines, lobster, crab, anchovies, squid and salmon all work well in Italian recipes. In addition, they contain less saturated fat than other proteins, such as pork or beef.
Pick a healthier protein. Cook lentils or beans with chopped walnuts for a meaty texture without the meat in your Bolognese sauce. Or try lean ground turkey instead of beef for less saturated fat. Chicken breast is another healthy protein option for Italian cooking.
Build a healthy bowl. Instead of white pasta, use a base of ancient grains or salad greens for your meat, vegetable or seafood dishes.
Ready to make your own Italian-inspired dishes at home? Start with one of Falkenberg's recipes:
Check out more recipes and nutrition tips from Cancer Wellness experts.
Tags
Suggested Articles