What to do during chemotherapy appointments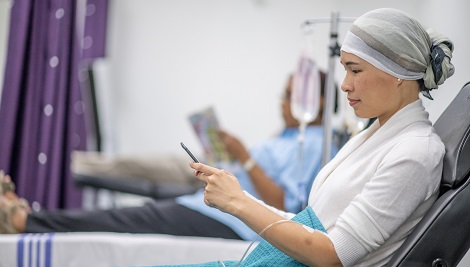 What to do during chemotherapy appointments
Packing for and planning some activities to do during chemotherapy infusions can help ease your anxiety.
"It can be stressful getting chemotherapy, and these activities can help you pass the time," says Sandy Pyle, RN, oncology nurse navigator at the Loran Smith Center for Cancer Support at Piedmont Athens Regional.
Activities to do during chemotherapy
Bring a supportive family member or friend with you

Do crossword or Sudoku puzzles

Play board games like Scrabble

Listen to music or an audiobook (with headphones)

Watch a movie or television show (with headphones)

Color in a coloring book for adults or sketch in a notebook

Play games on your digital device
What to pack for chemotherapy appointments
Items needed for activities (headphones, knitting supplies, journal, book, laptop, etc.)

Layers to keep you warm, such as a sweater, socks and a hat

A blanket and pillow

A water bottle

Light and healthy snacks

Hard candy to help with mouth dryness

Index cards with favorite inspirational quotes or verses

Lip balm to soothe dry lips

Fragrance-free lotion
What not to bring to chemotherapy appointments
Clothing that is uncomfortable or makes it hard to access your port or IV, like a turtleneck

Strong-smelling foods, like tuna, as this may affect your neighbors

Fragranced perfume or lotion, as this may also affect others at your appointment

Any activities that cause stress or require intense concentration, such as your taxes or legal documents
Pyle also notes you should check with the medical staff beforehand to see if you'll need someone to drive you home – some medications can cause grogginess or make it difficult to drive.
Connecting with others during chemo appointments
She also recommends connecting with other people during your appointments.
"Connecting with the people around you can really help at this time," Pyle explains. "You may have a great support system in your family and friends, but unless they've been down this road before, there may be some things they don't get or that you don't want to share with them. There could be people in the room who are going through the same things you are, so don't be afraid to reach out to them. You may find a very valuable bond in doing so."
Learn more about cancer prevention, wellness and treatment.
Tags
Suggested Articles