How a dietitian can help along the cancer journey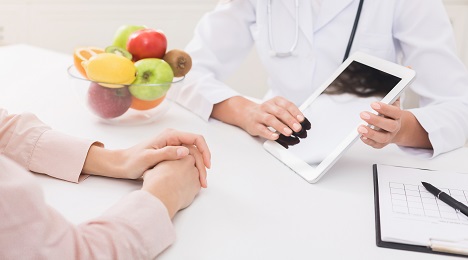 How a dietitian can help along the cancer journey
A major component of wellness during cancer treatment is your diet and nutrition. Just as your doctor can recommend chemotherapy or radiation to treat cancer, a dietitian can recommend foods that support your immune system and help you manage treatment side effects.
Ideally, you should see a dietitian early in your cancer treatment journey.
"Your body goes into overdrive during cancer treatment and your calorie and protein needs may change," explains Corey Tolbert, RD, LD, a licensed and registered dietitian at Cancer Wellness at Piedmont.
A dietitian can work with you to address your:
Nutritional needs. "If you're not fueling your body, it's not going to respond appropriately," explains Tolbert. "Your body is like a machine – if you feed it good nutrition, or fuel, it will run better."
Weight. "Weight maintenance is a priority during cancer treatment," she says. "The goal is that we don't see significant weight loss. We don't want people to lose weight too quickly, because this can tank the immune system. We want their labs to stay within normal limits."
A dietitian can also make recommendations for weight loss if it's needed to improve your outcome.
Immune system. A healthy immune system is essential for fighting cancer and minimizing complications during treatment. "When you're not getting enough calories or the right nutrients, protein, and fluids, your immune system will decline," says Tolbert.
Side effects. "When a patient comes in, we will discuss what treatment they're on, what symptoms can occur and different ways to manage their symptoms naturally," she says. "Some foods are better tolerated if you have side effects like nausea, constipation or diarrhea."
How to prepare for an appointment with a dietitian
When you set up an appointment, your dietitian may ask you to keep a food log for a few days beforehand.
"This helps us better assess what has been going on overall with your diet," she says.
You should also bring:
A list of medications or supplements you take

Your cancer treatment plan

A list of food allergies or intolerances
What to expect when meeting with a dietitian
Tolbert says most appointments focus on education and cover:
Your dietitian may also assess your weight and current diet.
You can choose to see your dietitian regularly for weight management or maintenance or during certain instances, such as if you're having a hard time managing side effects.
Tolbert says dietitians also work with patients who have had percutaneous endoscopic gastrostomy (PEG) feeding tubes placed. Patients work with the dietitian to find a specific formula that the patient tolerates and that meets 100% of their estimated daily needs.
How to find a dietitian
If you are about to begin cancer treatment or are currently going through treatment, you can contact the dietitian at your local Piedmont Cancer Wellness location. No referral is required and all services are provided free of charge.
Check out more nutrition tips from Cancer Wellness experts.
Tags
Suggested Articles