Grilled asparagus with Vidalia onion vinaigrette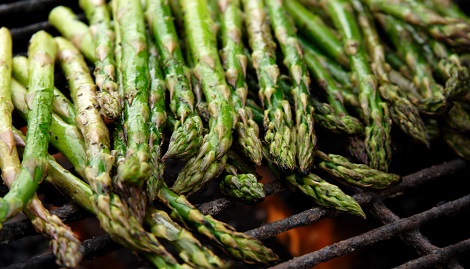 Grilled asparagus with Vidalia onion vinaigrette
Try this healthier Southern recipe from Nancy Waldeck, a chef at Cancer Wellness at Piedmont. This recipe also works well with green beans instead of asparagus.
Ingredients:
7 tablespoons olive oil, divided

1 large Vidalia onion, sliced thinly

1 teaspoon Dijon mustard

2 tablespoons sherry vinegar

2 pounds asparagus

Chopped parsley, for garnish

Sea salt and freshly ground black pepper
Step one
Sauté the onion with 1 tablespoon of oil until golden and tender, about 20 minutes over low heat. Season with salt and pepper, set aside.
Step two
Using a small bowl, whisk together the mustard and vinegar. Slowly whisk in 4 tablespoons of olive oil, add the onion, and season with salt and pepper.
Step three
Turn your grill to medium heat. Remove the tough ends of the asparagus. Place asparagus in a large bowl. Drizzle with remaining olive oil and season with salt and pepper.
Step four
Grill the asparagus, turning every few minutes until tender, about 8 minutes. Toss with the dressing, garnish with the parsley and serve.
Check out more recipes and nutrition tips from Cancer Wellness experts.
Tags
Suggested Articles