How to make healthier Southern food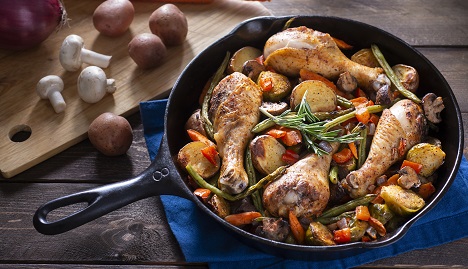 How to make healthier Southern food
"I think there are many reasons we love Southern food," says Nancy Waldeck, a chef at Cancer Wellness at Piedmont. "Food in the South is part of our culture and upbringing. There's nothing like a Sunday supper, picnic or church potluck on a Wednesday night."
While Southern food often has a reputation for being unhealthy, it didn't start that way.
"Originally, it was full of veggies and fresh produce, as well as meat and poultry from the farm," she explains. "Unfortunately, we usually prepare it in ways that take it from clean to heavy."
Lighten up Southern food
To enjoy Southern cooking and honor your health, Waldeck suggests embracing the tradition of hospitality while serving up nourishing, lighter fare.
"It's time to take great pride in cooking food that is better for us and delicious," she says. "Let's turn our beloved cuisine upside down and make others feel great by preparing and serving food that is yummy and healthy. It's a wonderful way of showing others how much we care."
Here are her tips to lighten up Southern meals.
Choose healthier fats. Waldeck recommends cutting down on the amount of fat and salt in your dishes. You can do this by roasting, sautéing, baking and grilling foods instead of frying them. Try healthier oils, like avocado oil or olive oil, rather than butter to cook and flavor your meals.
Add flavor with fresh herbs and spices. Fresh and dried herbs and spices add nutritional benefits and plenty of flavor to your meals, so you don't need to add extra salt. Waldeck likes using smoked paprika to give foods a smoky, meaty, bacon-like flavor. Try her recipe for seafood gumbo.
Roast your vegetables. "Roasting veggies or grilling in the summer helps them develop natural sweetness instead of frying or using lots of meat," she says. Check out Waldeck's recipe for grilled asparagus with Vidalia onion vinaigrette.
Serve up fruity desserts. You don't have to skip dessert when eating healthier. Waldeck likes to make fruit-based desserts. Instead of a crust, she tops her baked fruit with chopped, toasted nuts. Or, she suggests, enjoy the ripest, freshest fruit you can find. Try her recipe for fresh berry crisp next time you want something sweet.
Check out more recipes and nutrition tips from Cancer Wellness experts.
Tags
Suggested Articles