What to eat during COVID-19 if you have cancer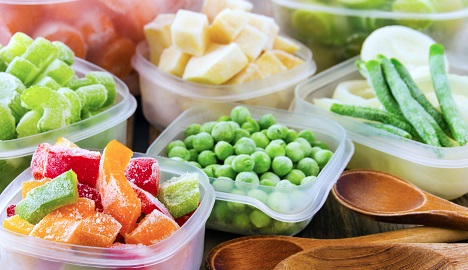 What to eat during COVID-19 if you have cancer
While hand-washing and social distancing are crucial to reducing your risk of contracting COVID-19, good nutrition also plays a role in supporting immune health.
"Good nutrition is essential during and after cancer treatment – your immune system relies on it," says Corey Tolbert, RD, LD, a licensed and registered dietitian at Cancer Wellness at Piedmont. "If you're not getting adequate nutrition, you'll be more susceptible to catching viruses that are going around."
This advice also applies if you have a suppressed immune system from kidney disease, liver disease, HIV/AIDS or multiple sclerosis, as well as if you take medications like steroids, chemotherapy or drugs to treat conditions like psoriasis or rheumatoid arthritis.
Eat your superfoods
Tolbert recommends paying attention to your calorie, protein and fluid intake and making sure you are eating plenty of superfoods.
Superfoods include:
Apples

Berries

Cruciferous vegetables

Dark, leafy greens

Flaxseeds

Greek yogurt

Nuts

Olive oil

Onions

Quinoa

Salmon

Tomatoes
"All of these superfoods help build up your immune system," she explains.
Tolbert also notes that the good bacteria from probiotics (found in yogurt, kefir, kombucha, kimchi and sauerkraut) also support immune system health.
Limit trips to the grocery store
The less often you can visit the grocery store during the COVID-19 pandemic, the better. Ask a family member, friend, neighbor or coworker to pick up groceries and household items for you. Most people are glad to have a way to support you during cancer treatment. You could also consider paying for a grocery delivery service if one is available in your area.
"If your immune system is suppressed, I don't recommend you go out at all," says Tolbert. "This is a time you need to accept help."
Stock up on frozen foods
Fill your freezer with healthy frozen ingredients.
"Many people think frozen fruits and vegetables aren't as healthy as fresh, but it can be more nutrient-dense," she says. Often, frozen produce is harvested at its nutritional peak and flash-frozen, preserving all the important nutrients."
You can also freeze proteins like fish, chicken, shrimp, ground turkey, and certain cooked dishes like soups, stews, healthy muffins or stuffed peppers.
Purchase healthy pantry staples
While she advises against hoarding, Tolbert says it's a good idea to keep shelf-stable healthy foods in your pantry or cabinet. These include:
Ancient grains (quinoa, barley, farro)

Beans

Brown rice

Canned tomatoes

Canned tuna

Lentils

Low-sodium marinara sauce

Low-sugar whole-grain cereal

Oatmeal

Shelf-stable nut milk

Whole wheat pasta
Flavor your meals with:
Wash produce well
Tolbert suggests washing tougher-skinned produce – like avocados, peppers, cucumbers, peppers and grapes – with a three-to-one mixture of water and white distilled vinegar.
Wash delicate produce – like raspberries and strawberries – with water. Then, wash your hands with soap and water when you finishing rinsing your fruits and veggies.
How to put together healthy meals
"Try to balance out your meals," says Tolbert. "Make sure you have protein, such as meat or beans, a carbohydrate, like rice or grains, and a vegetable."
Soups, stews and smoothies are great ways to use up produce that's still fresh but will expire soon.
You could also use a slow-cooker or Instant Pot to cut down on time in the kitchen.
Avoid processed foods
It can be tempting to stock up on unhealthy processed foods when you are staying close to home, but it's essential to eat well to support your recovery and immune system.
Limit or avoid inflammation-promoting foods like:
Baked goods

Bottled salad dressing (make your own instead)

Candy

Chips

Cookies

Crackers

Energy drinks

Frozen vegetables with cheese or sauces

High-sodium frozen meals

Pretzels

Processed meats, like pepperoni, bacon, sausage and lunch meat

Sugary cereals and granola bars

Soda

White bread or pasta
You can make simple, healthy and well-rounded meals at home without having to rely on heavily processed foods.
Check out more nutrition tips from Cancer Wellness experts.
Tags
Suggested Articles