Social distancing when you have cancer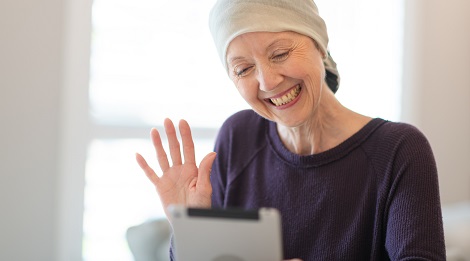 Social distancing when you have cancer
During the COVID-19 pandemic, everyone needs to practice social distancing, but it's even more crucial if you have cancer.
"If you have cancer, your immune system is already weakened from treatment or the disease itself," says Mark Flanagan, LMSW, MPH, MA, a social worker at Cancer Wellness at Piedmont. "In addition to hand-washing, social distancing is one of the most effective ways to not come in contact with COVID-19."
COVID-19 and feelings of isolation
"Getting a cancer diagnosis can feel extremely isolating," says Flanagan. "While many others have faced cancer, no one has the exact same journey, and that in itself can feel isolating."
The fact that you can't spend time in close proximity with your social network right now can lead to feelings of "double isolation."
"Usually our daily routines, such as attending Cancer Wellness classes, put us in contact with other people who can support us," Flanagan explains.
When these activities are canceled and you must limit social contact for health reasons, it can be easy to lose your sense of support and community. This loss of community can have an even stronger impact when you have cancer. The good news is, there are ways to combat these feelings.
Managing loneliness during the coronavirus pandemic
Addressing the mental, emotional and physical effects of isolation takes intentionality. Flanagan suggests the following ways to combat isolation and loneliness:
Make a list. Create a list of people you care about, even those you haven't talked to in a while. This can include your family, friends, neighbors, coworkers, Cancer Wellness classmates or support group. Making a list is a positive first step you can take to create community even when you are physically distant from others.

Connect to online resources. It's also essential to connect with people who can relate to your current circumstances. Flanagan suggests free online resources for peer support, like Imerman Angels and the Cancer Hope Network, which connect people with cancer and their caregivers to peers who can provide support.

Utilize technology. An email or text chain with a group of friends, video chats, or a phone call are simple ways to connect with people even when you're not physically together.

Use social media mindfully. Social media can be helpful if you treat it as a tool to connect, not something to do absentmindedly when you're bored, he notes.

Offer support. Flanagan says it's important to not only seek support, but also to share your support through positive words and actions. "When you start giving to others, even just words of affirmation, you tend to have a deeper sense of gratitude and openness, which reduces your blood pressure, heart rate, and negative mood states," he says.

Practice self-care. Exercising, getting enough sleep, eating well, enjoying hobbies, meditating, praying, journaling and spending time in nature can help you stay physically and mentally well.
Learn more about support during the cancer journey.
Tags
Suggested Articles