Fall recipes to brighten 2020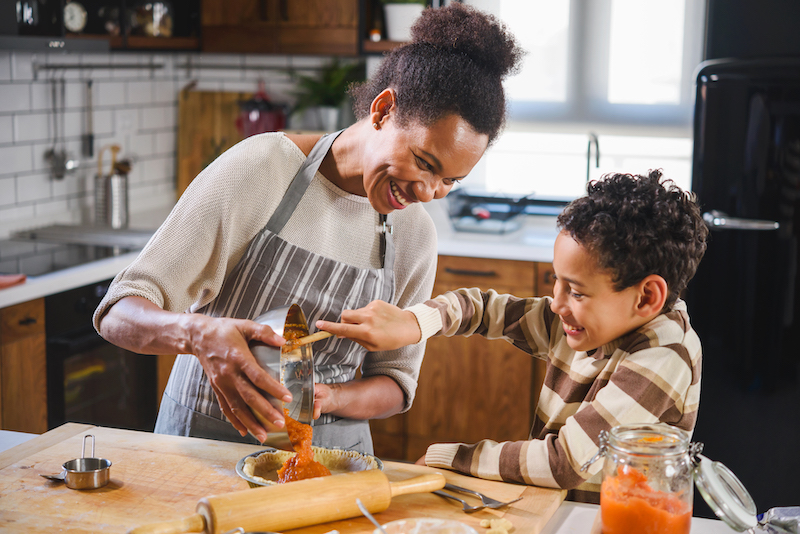 Fall recipes to brighten 2020
Savor sweater weather with these healthy fall and Halloween treats from Nancy Waldeck, a chef at Cancer Wellness at Piedmont.
"Squash, pumpkins and sweet potatoes are all in season in the fall," says Waldeck. "All three are fun to use this time of the year because any of the three delicious veggies can be used interchangeably."
She also enjoys using apples in fall desserts, salads and breakfast dishes. Read on for five of her favorite autumn-inspired recipes.
7-layer squash and apple salad
Salad ingredients:
1.5 cups quinoa, prepared as package directs, divided

Apple cider dressing*

1 cup chopped green apple

1 cup chopped red apple

2 cups chopped roasted butternut squash

1 cup chopped dried apricots

½ cup crumbled blue cheese

¼ cup chopped parsley

½ cup chopped toasted almonds

3 thinly sliced green onions for garnish
Step one
Toss the quinoa with half of the dressing. Toss the chopped green apples in a bowl with 1 tablespoon of the dressing. In another bowl, toss the chopped red apples with 1 tablespoon of the dressing.
Step two
Layer the ingredients in a trifle bowl, starting with half of the prepared quinoa and then add the squash, green apple and apricots or cranberries. Layer the remaining quinoa and then the red apple, blue cheese and almonds. Garnish with the sliced green onions.
*Apple cider dressing ingredients:
1/3 cup apple cider

3 tablespoons apple cider vinegar

3 tablespoons olive oil

1 teaspoon Dijon mustard

1 teaspoon honey

1/4 teaspoon each sea salt and freshly ground black pepper
Shake the ingredients together in a jar.
Pumpkin pecan bars
Ingredients:
1 cup whole wheat pastry flour

2 cups regular oats (not instant or quick oats)

1 teaspoon baking soda

2 teaspoon cinnamon

1 teaspoon ground allspice

1/2 teaspoon salt

1 cup canned pumpkin

1 large egg

4 large egg whites

1/2 cup avocado oil

2 teaspoon vanilla

¾ cup dark brown sugar, packed

1 cup chopped pitted dates

1 cup chopped toasted pecans
Step one
Preheat the oven to 350 degrees. Coat a 9x12 baking pan with nonstick spray.
Step two
In a bowl, combine the flour, oats, baking soda, cinnamon, allspice and salt. In a second bowl, mix the pumpkin, eggs, oil, vanilla and brown sugar.
Step three
Stir the pumpkin mixture into the flour mixture. Add in the dates and pecans. Spread the mixture in your prepared pan. Bake for 30 minutes, or until a skewer inserted in the top comes out clean. Cool completely before cutting.
Creamy pumpkin pepper soup
Ingredients:
1 tablespoon olive oil

2 large red, yellow or orange bell peppers, chopped

2 cups shredded carrots or parsnips

1 cup chopped red onion

1 teaspoon smoked paprika

1⁄2 teaspoon cumin

1 teaspoon sea salt

1⁄2 teaspoon freshly ground black pepper

2 grated garlic cloves

4 cups veggie stock

1 can (15-ounce) pumpkin puree

2 tablespoon lemon juice

1⁄4 cup pumpkin seeds, toasted

1 tablespoon chopped sage, thyme or rosemary
Step one
Warm the olive oil in a stockpot and sauté the peppers, carrots, and red onion with the paprika, cumin, sea salt, and black pepper over medium heat until soft (about six to seven minutes). Add in the garlic and cook and stir until fragrant. Add in the vegetable stock and simmer for 10 minutes.
Step two
Remove the pot from the heat and, using the immersion blender, puree the ingredients in the pot. Return to the cooktop and whisk in the pumpkin and warm for an additional 10 minutes. Remove from the heat, stir in the lemon juice and sprinkle with pumpkin seeds and herbs.
Apple breakfast bowl
Ingredients:
1 apple

1/8 teaspoon cinnamon

1/2 cup pomegranate arils (seeds)

1/2 cup plain Greek nonfat yogurt

1 tablespoon sliced or slivered almonds

1 tablespoon sunflower or pumpkin seeds

1 tablespoon unsweetened coconut

1 teaspoon coconut oil, melted

1 teaspoon coconut sugar

¼ teaspoon ground ginger
Step one
Chop the apple and toss with the cinnamon. Place the apple and pomegranate on top of the yogurt.
Step two
In a medium-sized skillet over medium-high heat, sauté the nuts, seeds and coconut in the coconut oil for a few minutes, and then add the sugar and ginger. Sprinkle over the yogurt bowl.
Fall harvest salad with sweet potato croutons
Ingredients:
1 large bag power greens

1 large bag baby spinach

1 head radicchio, shredded

½ cup chopped green onion

1 recipe pomegranate vinaigrette*

¾ cup chopped roasted pecans

½ cup chopped dried tart cherries (or dried cranberries if you can find them without sugar)

1 recipe sweet potato croutons**
Toss the greens, spinach, radicchio and green onions together in a large salad bowl. Toss with the pomegranate vinaigrette, starting with half of the dressing and adding more as necessary. Sprinkle on the pecans, cherries and croutons and serve.
*Pomegranate vinaigrette ingredients:
3 tablespoons white wine vinegar

¼ cup extra virgin olive oil

2 teaspoons Dijon mustard

1 tablespoon pomegranate molasses (or substitute honey)

Sea salt and freshly ground black pepper to taste
Shake all the ingredients together in a jar.
**Sweet potato croutons ingredients:
1 large sweet potato, cut into ½" pieces (if the sweet potato has soft skin, leave it on)

2 tablespoon extra-virgin olive oil

1 teaspoon garam masala (more or less, to your taste)

¼ teaspoon each sea salt and freshly ground black pepper
Toss the sweet potato, oil, garam masala, salt and pepper together in a bowl. Spread out on a sheet pan and slide into a 400-degree oven. Cook until the sweet potato is soft in the middle and brown and toasted on the edges – about 30 minutes. Set aside to cool for 15 to 20 minutes before tossing with the salad.
Check out more recipes and nutrition tips from Cancer Wellness experts.
Tags
Suggested Articles