Easy and comforting one-pot recipes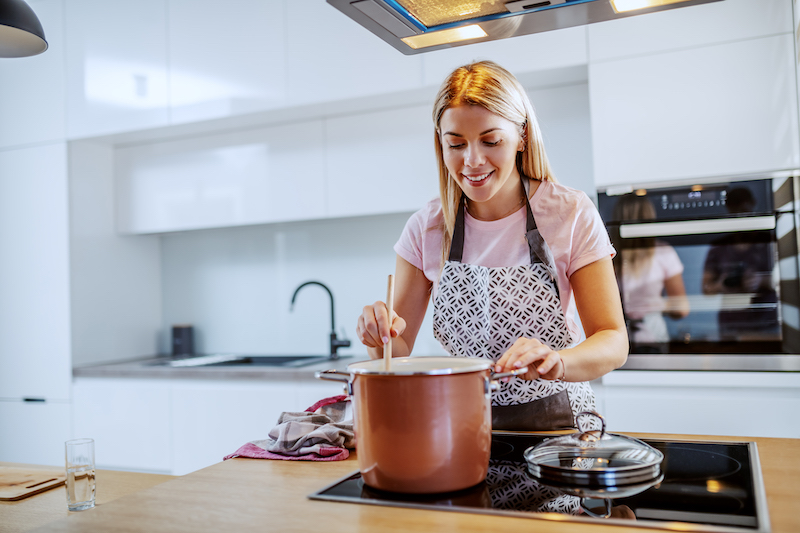 Easy and comforting one-pot recipes
On a cold and dark winter evening, who doesn't want a quick, cozy meal that requires minimal effort and clean-up? That's where one-pot recipes come in.
"Many one-pot meals fall into the 'comfort food' category – soups, stews, braises and the like," says Nancy Waldeck, a chef at Cancer Wellness at Piedmont. "My absolute favorite thing about one-pot meals is doubling the recipe, wrapping it well and putting an entire meal in the freezer for later. There's nothing like opening the freezer and discovering dinner is done."
Waldeck says one-pot dishes are especially helpful during stressful and busy times.
"Since you are already cooking, it doesn't take significantly more time to double a recipe and put the rest in the freezer," she says. "It makes life easier on those days where it just doesn't seem possible to eat well."
How to make healthy one-pot meals
While comfort food isn't always synonymous with healthy food, here are six ways to make one-pot meals nutritious:
Use as many vegetables as you can. "Adding veggies to one-pot meals adds nutrition and fiber – two things we really need during the colder days of the year when we don't move as much," says Waldeck. "Use your creativity to figure out just how many veggies you can pack into a meal."

Use half the meat. "In a recipe with ground meat, chop mushrooms finely in the food processor and add them at the same time you add the meat, substituting half of the meat the recipe requires," she suggests.

Use boneless, skinless poultry in stews or braises.

Use only half of the rice called for in a soup and substitute the rest with cauliflower rice.

Take half of the cheese called for in a recipe and add the same amount of pureed white beans. "You'll amp up the vegetables and fiber, and no one will know," she says.

Add cooked tomato sauce to recipes for lycopene and fiber.
Read on for two healthy one-dish recipes, courtesy of Waldeck.
Roasted tomato chicken with capers
"Capers add a pop of briny, 'pickle-y' flavor to this easy-to-make sauce," says Waldeck. "Inspired by the flavors of Italy and Sicily, it is a super way to make a one-pot meal that everyone at the table will enjoy. This recipe is on a platter of ancient grains with a sprinkle of fresh herbs."
Ingredients:
3 tablespoons olive oil, divided

2 tablespoons unsalted butter

6 cups chopped red onions

6 cloves garlic, grated

4 red peppers, thinly sliced

3 (15-ounce) cans of fire-roasted tomatoes

Sea salt and freshly ground black pepper

2 pounds boneless skinless chicken thighs, seasoned with sea salt and freshly ground black pepper

½ cup dry red wine

½ cup chicken broth

½ cup capers

¼ cup chopped basil, parsley, thyme or oregano or a combo, plus more for garnish
Step one
Add 1 tablespoon of olive oil and 1 tablespoon of butter to a Dutch oven over medium-high heat. Sprinkle the chicken with salt and pepper. Add the chicken pieces to the Dutch oven and cook until golden, then remove and set aside on a plate.
Step two
To make the tomato sauce: In the same Dutch oven, add the remaining oil and butter, then add the onions and cook until soft, about seven minutes. Add the peppers and cook for a few minutes and then add the garlic. Cook until aromatic, about one minute. Pour in the tomatoes, wine and chicken broth, reduce the heat to low and simmer for 30 minutes.
Step three
Add the chicken to the tomato sauce, along with any accumulated juices. Cover and simmer for 30 minutes. When the chicken is cooked through (165 degrees on an instant-read thermometer), remove from the heat; stir in the capers and chopped herbs.
"Peppers are one of my favorite versatile ingredients, not only for their color but nutrition too. One bell pepper has more vitamin C than an orange," Waldeck says. "Chicken thighs are my go-to choice when braising chicken for a recipe like this. Not only are they less expensive, but they are also extremely forgiving – even if you overcook them, they never get rubbery."
Sweet potato pilaf
Ingredients:
2 tablespoons olive oil

2 cups finely chopped yellow onion

2 garlic cloves, grated

2 teaspoons grated ginger

1 teaspoon garam masala

1 teaspoon turmeric

1.5 cups basmati rice

1 teaspoon sea salt

½ teaspoon freshly ground black pepper

½ cup dry white wine (or apple cider)

4 (generous) cups sweet potatoes, cubed into 1-inch pieces

4 cups vegetable broth

¼ cup roasted salted cashews, chopped

Chopped cilantro for garnish
Step one
Preheat the oven to 400 degrees. In a large Dutch oven, sauté the onion in the olive oil until translucent, about seven to eight minutes. Add the garlic, ginger, masala and turmeric. Cook and stir for about one minute until well-blended and aromatic.
Step two
Add the basmati rice and sauté for a couple of minutes to toast the rice, then add the wine. Cook and stir for another minute, and then add the sweet potatoes and vegetable broth. Cover and place in the preheated oven. Cook for about 15 minutes, until the liquid is absorbed. (If the liquid has not been absorbed, stir the rice and place it back in the oven until the rice is dry, checking about every five minutes.) Remove, top with cashews, sprinkle with cilantro and serve.
Check out more recipes and nutrition tips from Cancer Wellness experts.
Tags
Suggested Articles