Advice for cancer caregivers during COVID-19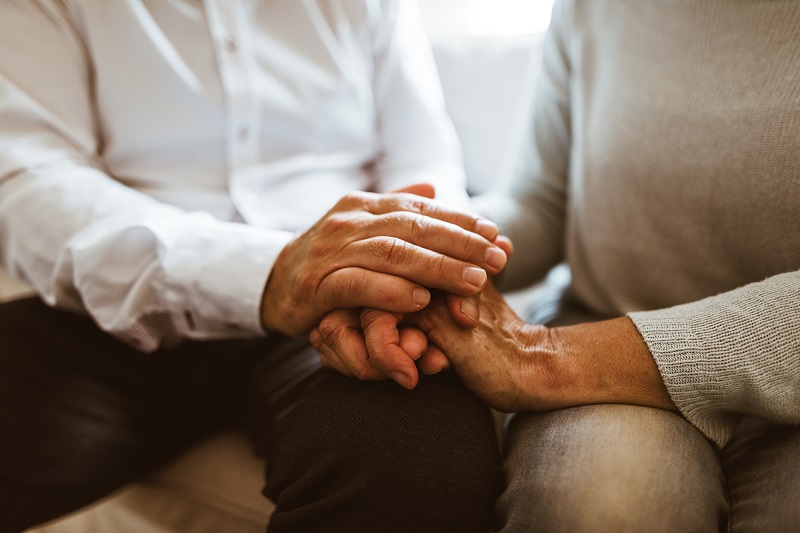 Advice for cancer caregivers during COVID-19
Caring for a loved one with cancer can be incredibly challenging, and perhaps never more so than during the COVID-19 pandemic.
"The pandemic has really changed the dynamic of the caregiver and care recipient," says Lauren Liverman, LCSW, an oncology social worker at Piedmont Athens Regional. "COVID-19 puts a strain on caregivers and their ability to safely ask for help. They are very concerned about the potential impact of COVID-19 on their loved one and themselves."
The inability to accompany your loved one to treatment sessions or to have family and friends help out around the house can quickly lead to overwhelm and burnout. Signs of caregiver burnout include feeling emotionally disconnected, irritability, and poor eating and sleeping habits.
"A lot of people are really depleted from the stress of caregiving and the pandemic," she says.
Here are some strategies for coping with the challenges caregivers face during COVID-19.
Attend appointments virtually
"It's been very stressful for caregivers because many have not been able to be with their loved one when they are at the outpatient clinic for treatment or admitted to the hospital," says Liverman. "When, for COVID-19 safety reasons, caregivers are unable to be present during appointments or at the hospital, it can leave the caregiver feeling like there are a lot of missing pieces to the puzzle when it comes to their loved one's health. This can heighten the stress of being a caregiver."
If you aren't able to attend an appointment or treatment session with your loved one, check with the medical staff to see if they can call and put you on speakerphone during the appointment, suggests Liverman.
"I've talked with a number of people for whom this was the next best thing if they couldn't be there with their loved one," she says.
Keep a "healthcare bible"
For years, Liverman has encouraged patients and caregivers to keep a "healthcare bible," where they write down questions they have, important phone numbers, treatment recommendations, and prescribed and over-the-counter medications. She recommends encouraging your loved one to take this notebook or binder with them to appointments to document new information.
"This way, the person at the appointment doesn't have to remember everything that was said and the caregiver can still feel involved in their loved one's care," she says.
Prioritize your physical health
Liverman encourages caregivers to prioritize their own physical health.
"Go to your own doctor's appointments and keep your prescriptions filled," she says. "If you're not physically well, you won't be able to take care of your loved one. Your health has to be a priority so you can be available to the person who needs you."
If the person undergoing cancer treatment requires someone to be present at all times and you must leave the house for an appointment or errand, talk to your loved one's oncologist. Ask if it's safe to have someone else in the home for a few hours and how to proceed safely.
Reach out to a social worker
Liverman recommends reaching out to your Cancer Wellness Center or hospital's social worker. A social worker can connect you with counseling services, support groups and other community resources.
Ask family and friends for help
Caregivers are often encouraged to ask for help, but social distancing can make this difficult.
"Don't be shy about asking loved ones for what you need," says Liverman. "While they may not be able to come into your home at this time, they can be there to listen to you, run errands, pick up groceries or prescriptions, or drop off meals."
Take advantage of virtual support groups
Virtual support groups are another helpful resource during the pandemic.
"The support group environment can help normalize your experience," she says. "It can be really hard and gratifying to take care of a loved one. You may be thankful you're in a position to do so, but it's also hard and stressful. The group can give you pointers about what's helpful and provide the emotional affirmation of talking to others who can relate to you."
Maintain your relationships and hobbies
"Caregiving can be isolating for caregivers because when their loved one is sick, their world can become very small," says Liverman.
She recommends being as proactive as you can about staying engaged in relationships and activities that are meaningful to you, even if you aren't able to engage as frequently as you once did.
"Caregiving is a lot harder right now because of COVID-19," says Liverman. "We're all feeling the effects of isolation, being away from loved ones and not maintaining normal levels of social activity. But by being creative, you can stay connected to your community, faith, hobbies and things that fill your cup. It's going to serve you well while you're a caregiver and after those responsibilities end."
Learn more about support during the cancer journey.
Tags
Suggested Articles