Healthy ways to celebrate Valentine's Day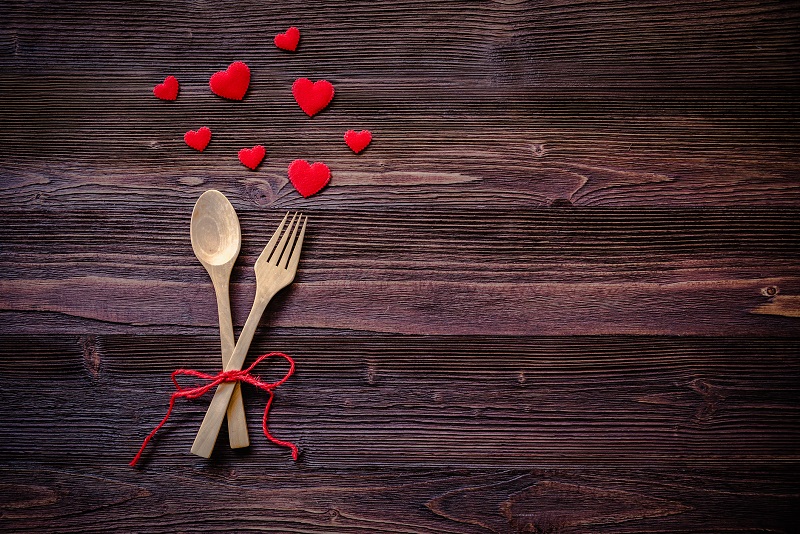 Healthy ways to celebrate Valentine's Day
These days, we could all use a little extra joy and celebration. If social distancing and staying home have your days running together, try creating a memorable Valentine's Day celebration to mix things up. Celebrate yourself, your partner, your roommate, your family or your small bubble of friends with a special menu and some tips to make the holiday special, courtesy of Nancy Waldeck, a chef at Cancer Wellness at Piedmont.
"Stopping to celebrate the 'little' things – whether it's a personal victory or a special occasion – is important, especially now as we are together more often with the same folks," says Waldeck. "Creating a memorable event is a way to bond with others and show them you care."
Simple ways to make Valentine's Day special
Create a festive menu. Instead of preparing a go-to weeknight meal, try something different, says Waldeck. For example, if your friend, partner or family loves Italian food, make that your theme and seek out new recipes you haven't tried before.
Make a plan. She suggests planning ahead of time so you have time to create a memorable meal. Let your loved one(s) what time you will eat and that it will be a special occasion.
Be creative with your table setting. Fill a vase with inexpensive fresh flowers, set out funny or old Valentine's cards or decorations, or use festive plates, glasses and napkins. Adding a little extra oomph to your table setting will help signal that this is a special event.
Get others in the spirit. "Ask those you're celebrating with to contribute by wearing red or coming up with three questions and answers about whatever your theme might be, such as Italian food," says Waldeck. "If your guests are movie buffs, you could ask them to share what three movies about Italy they love and why. Don't be afraid to get others involved."
Make it meaningful. "Life's most special moments are often around the table," she says. "Even the simplest of meals can be a gift – of your time, energy and ingredients. It's not about the action, but about the purpose. Especially when you serve up something that's both delicious and better-for-you, you're saying, 'you are important to me.'"
A unique, healthy Valentine's Day menu
"Last year, I made our Valentine's Day all about Mexico – and chocolate," says Waldeck. "Mexico is a place that celebrates chocolate as a savory ingredient as well as sweet."
Check out Waldeck's Mexican-themed Valentine's Day menu below – including a salad, entrée and dessert.
Winter greens salad with mole vinaigrette
Serves six
Salad ingredients:
About 2 cups thinly shredded red cabbage

8 to 12 cups arugula

1 cup Marcona almonds, chopped (if you can't find Marcona almonds, use roasted salted almonds)

1 cup shredded Manchego cheese

1 cup chopped cilantro

1 cup green (Manzanillo) Spanish olives with pimento, chopped
Toss the salad together and drizzle with the mole vinaigrette.
Mole vinaigrette ingredients:
¼ cup extra virgin olive oil

1 jalapeno, ribbed, seeded and minced

1 grated garlic clove

1 tablespoon unsweetened cocoa powder

1 teaspoon cinnamon

1 teaspoon ancho chili powder

3 tablespoons orange juice

2 tablespoons lime juice

1 tablespoon honey

½ teaspoon chipotle tabasco

Sea salt and freshly ground black pepper to taste
Shake all the ingredients together in a jar.
The salad can be kept in the refrigerator for two days. Waldeck says it makes a great stuffing for a pita pocket. Leftover dressing can be kept in the refrigerator for five days.
Easy chicken mole
Serves six
"Mole sauce from Mexico is usually a very complex sauce with dried peppers and lots of ingredients," she says. "This one is very much easier, but just as delicious."
Ingredients:
3 tablespoons grapeseed or avocado oil

8 boneless skinless chicken thighs, seasoned with salt and pepper

2 cups prepared salsa

1 cup chicken broth

2 roasted red peppers, chopped

6 sun-dried tomatoes

4 tablespoons golden raisins

4 tablespoons natural peanut butter

1 corn tortilla, torn into pieces

1 teaspoon sea salt, plus more to taste

1 teaspoon cumin

½ teaspoon pepper

½ teaspoon cinnamon

½ teaspoon ground cloves

2 ounces bittersweet chocolate (at least 70% cacao)

3 tablespoons sesame seeds, toasted

*1 recipe yellow (brown) rice (see below)
Step one
Heat the oil over medium-high heat in a large skillet. Add the chicken and brown the pieces, removing them when golden.
Step two
To create the sauce, puree the salsa, chicken broth, roasted red peppers, sun-dried tomatoes, raisins, peanut butter, tortilla, salt and spices in a blender.
Step three
Remove the sauce from the blender. In the large skillet used for the chicken, heat the sauce. When warm, add the chocolate and cook and stir until the chocolate is melted. Add the chicken back to the sauce and simmer at low heat until the chicken is cooked through, about 30 to 45 minutes.
Step four
Serve the chicken over the yellow rice and sprinkle with the sesame seeds.
The chicken leftovers can be frozen and reheated later.
*Yellow (brown) rice
Serves six
Ingredients:
1 teaspoon turmeric

¼ teaspoon cumin

¼ teaspoon black pepper

Pinch of cinnamon

1 tablespoon olive oil

4 cups water

½ teaspoon sea salt

2 cups brown rice
Step one
In a medium saucepan, sauté the turmeric, cumin, pepper and cinnamon in the oil over low heat until fragrant, stirring, about one minute. Add the water and salt and bring to a boil.
Step two
Add the rice and stir well. Cover and reduce heat to low. Cook, covered, without stirring until the water is absorbed and the rice is tender, about 40 minutes
Warm and spicy cinnamon hot chocolate
Serves two
Ingredients:
¾ cup water

3 tablespoon cocoa powder

1.5 teaspoons cinnamon

3 cups milk (such as oat milk)

6 ounces dark chocolate (at least 70% cacao)

3 tablespoons raw sugar
Bring ¾ cup of water to a boil in a saucepan over medium heat. Add the cocoa and stir until smooth. Add milk and return to a simmer. Whisk in chocolate and sugar and cook, whisking frequently, until mixture is smooth and creamy and the chocolate is melted, about five minutes.
Check out more recipes and nutrition tips from Cancer Wellness experts.
Tags
Suggested Articles