Healthy smoothie tips and recipes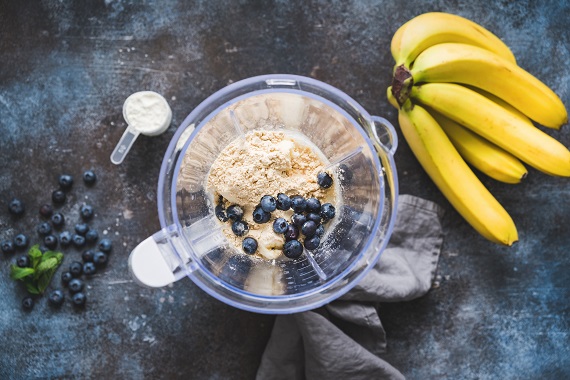 Healthy smoothie tips and recipes
Smoothies can be an excellent way to add more fiber and nutrients to your diet. They're also convenient, portable and customizable to your taste. However, some smoothies – particularly the store-bought kind – are laden with added sugar. Nancy Waldeck, a chef at Cancer Wellness at Piedmont, shares her tips and tricks for making healthy smoothies that taste great and have health benefits.
Health benefits of smoothies
"With smoothies, you can sneak more fruits and veggies into your diet," says Waldeck. "Fresh produce is full of fiber – something we all need. And, of course, there's a whole panoply of antioxidants, varied by your choice of yummy ingredients."
How to make a healthy smoothie
"Veggies and fruit are the stars of smoothies, but don't forget the proteins like yogurt (conventional or alternative milk), nuts and nut butter," she says. "A little fat in the nuts or dairy is good for us and can even help us absorb some of the good benefits of the smoothie. All of these ingredients will keep you full longer and satisfy your cravings for sweets."
Here's a simple formula to get you started:
Start with a base of greens, like spinach or kale.

Add frozen cauliflower rice or frozen banana for a creamy texture.

Add your favorite fresh or frozen fruit.

Include healthy fat from a source like nuts, seeds, nut butter or avocado.

For protein, add a scoop of protein powder (choose one with minimal ingredients) or a serving of yogurt (conventional or alternative milk).

Top with water or your favorite milk.
To experiment with your smoothie recipes, Waldeck suggests some surprising – but tasty – ingredients.
"You can put any ingredients that taste good and are good for you in your smoothie," says Waldeck. "One of my favorite ingredients that brings cruciferous veggies to the creamy drink is broccoli slaw. Another creamy ingredient is canned pumpkin, which is sweet, flavorful and full of vitamin C. An avocado is a shoo-in for a smoothie since it's rich, delicious and has healthy fats."
One thing to avoid adding to your smoothies: extra sugar, especially if your smoothie contains fruit.
"When you make your smoothies, remember to taste, taste, taste and adjust the ingredients to what you like," says Waldeck. "There are no rules; just a fun and satisfying drink that can take you from breakfast to lunch or lunch to dinner with flavor."
Here are a few of her favorite smoothie recipes.
Double berry banana avocado smoothie
Ingredients:
1 cup unsweetened almond milk, plain or vanilla

1 cup frozen blueberries

1 cup fresh strawberries, halved or quartered

1 frozen banana, peeled and cut into six pieces

1/2 ripe avocado, pitted and sliced
Place everything in the blender and puree.
Summer smoothie
Ingredients:
1/4 cup broccoli slaw (or broccoli and kale mix)

1/4 cup blueberry, cranberry or pomegranate juice, unsweetened

1/4 cup frozen berries or peaches

1/2 small banana

Unsweetened coconut flakes or shreds for garnish
Place all ingredients in a blender and process until smooth.
Citrus ginger mint smoothie
Ingredients:
1 cup coconut water

1/4 cup fresh lemon juice

1/4 cup fresh orange juice

1-inch piece of fresh ginger, peeled

4-inch piece of cucumber

1/2 cup fresh mint

1 to 2 cups of ice

Mint, lemon and orange slices for garnish
Add the coconut water, lemon juice, orange juice, ginger, cucumber and mint to the blender and puree. Add the ice cubes and blend again. Garnish with mint and lemon or orange slices.
Banana date nut smoothie
Ingredients:
1/4 cup toasted nuts (Brazil nuts, almonds or walnuts)

1/4 cup pitted dates

1 frozen banana (freeze peeled and sliced bananas)

1 cup unsweetened almond milk

Ground cinnamon for garnish
Puree the nuts and dates in a blender; add in the banana and almond milk. Puree until smooth. Garnish with cinnamon.
Check out more recipes and nutrition tips from Cancer Wellness experts.
Tags
Suggested Articles