How to shop the farmers market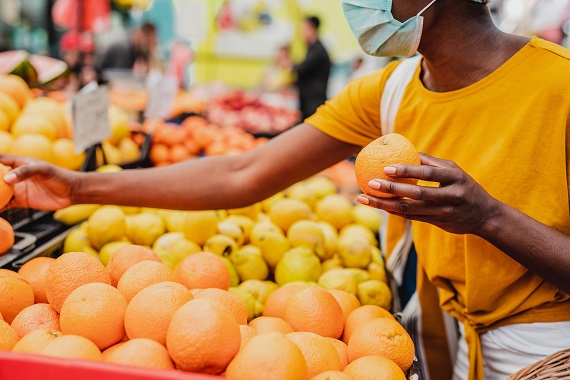 How to shop the farmers market
When you shop at your local farmers market, you support small businesses in your community, have access to fresh and local produce, and can learn how your food was grown or raised.
Christi Hansen, MS, RDN, LD, a licensed and registered dietitian at Cancer Wellness at Piedmont, offers the following tips for making the most of your farmers market trips.
Make a list before you shop
While it's important to be flexible when shopping with local farmers, it can be helpful to have a shopping list. Think about the recipes you'd like to make that week and try to find items you can use.
"If you know you'll make some salads, just be open-minded about what kind of greens you get," she suggests.
Also, check out what's in season in your area – this can help you look for the freshest ingredients and get creative with your meals.
Set your budget in advance
While you can find great deals at the farmers market, the snacks, coffee, candles and t-shirts can quickly add up – leaving you with little cash leftover for meal ingredients.
Hansen recommends setting a budget in advance so that you can shop mindfully.
Bring the right supplies
While many vendors now accept credit cards, it's helpful to bring cash in small bills and your own reusable bags.
Do a lap before you buy
Hansen recommends checking out each table to see what's available. Once you've walked a lap through the market, you'll have a better idea of what you'd like to buy.
In addition to fruits and vegetables, look for fresh meat, poultry, fish, seafood, cheese and bread.
Start small
"If you're excited to try a new type of meat or produce that you're not used to cooking, start by getting a small amount so you can experiment with the recipe," she says. "If you buy a whole crisper full of items you don't know what to do with, there's a higher likelihood that they'll end up going bad."
Talk to the growers
If there isn't a long line behind you, Hansen suggests chatting with the farmer to see what they recommend, how they grow their food and if they have any favorite recipes or preparation methods.
"That's the fun part of visiting the farmers market," she says. "You get the personal interaction and recipe ideas."
Be open-minded and flexible
"Usually what's out on the table is what's available," says Hansen. "If you want the most variety, go soon after the market opens."
If you want great deals, visit toward the end of the day.
Check out other offerings from local growers
"There are many ways to eat seasonally and locally," says Hansen.
In addition to shopping the farmers market, you can also sign up for a community-supported agriculture (CSA) box, visit a roadside stand or even grow your own produce in your backyard.
Check out more recipes and nutrition tips from Cancer Wellness experts.
Tags
Suggested Articles