How to eat more plant-based foods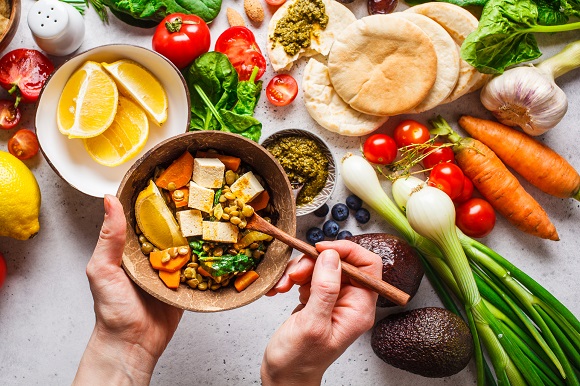 How to eat more plant-based foods
Research proves that vegetables and fruits are critical to good health.
"They are packed with essential vitamins, minerals and fiber," says Nancy Waldeck, a chef at Cancer Wellness at Piedmont. "And they help you replace foods that you want to eat less of."
Aim for at least five servings of vegetables and fruit each day. And to determine how many – or few – servings of fruit and vegetables you get each day, Waldeck suggests tracking your servings for a couple of weeks. A serving size includes:
3 cups of leafy greens (like lettuce, kale, spinach or arugula)

1 cup of raw or cooked vegetables or fruit

½ cup of beans
Tips and recipes to add more plant-based foods to your diet
"We all know we need to eat our veggies, but sliding them into our days is difficult," says Waldeck. "Plant-based foods, whether vegetables or fruit, are often just not as convenient as opening a package."
Here are her tips for adding more plant-based nutrients to your meals.
Avoid highly processed plant-based foods
"The new wave of ultra-processed vegan or vegetarian food is growing in popularity in the United States," says Waldeck. "But just because it's plant-based does not necessarily mean that it's healthy. The best vegetables and fruit to eat don't have an ingredient label."
She recommends choosing fresh or frozen produce in its natural form, meaning no added sauce, cheese, salt or sugar.
"If you are buying a packaged item, look at the list of ingredients before you make a purchase," she adds. "Products that call themselves plant-based often use other ingredients like sugar, fats or other undesirable additives to make them taste good."
Make easy recipe swaps to add more plants to your diet
Waldeck suggests these tips for adding more plant-based ingredients to your meals:
Swap out half the cream or soft cheese in a casserole or dip with pureed cannellini beans. You'll get more fiber and won't sacrifice taste or texture.

Roast or grill veggies. It's an easy way to make them sweet and smoky. Roast more than you need for one recipe and keep the extras in your fridge to add to salads, soups and omelets.

Make your own plant-based recipes instead of buying premade items at the store. Check out the following recipes to get started.
Indian-style lentil, sweet potato and spinach sliders
"Instead of buying a plant-based burger, make your own," says Waldeck. "They're easy, delicious and freeze great."
Ingredients:
2 inches of fresh ginger, peeled

2 jalapeños, ribbed and seeded

2 cups roasted sweet potatoes (from 1 large roasted and peeled sweet potato)

1 cup prepared orange lentils*

1 cup minced red onion

2 packages frozen spinach, defrosted and drained well

1 teaspoon lemon zest

4 cups panko bread crumbs (whole wheat, if possible), divided

¼ cup chopped cilantro

1 tablespoon garam masala

1 tablespoon ground coriander

1 teaspoon sea salt

½ teaspoon freshly cracked black pepper

2 teaspoons turmeric

¼ cup grapeseed or avocado oil

Tomato slices, pickled red onions** (see recipe below) and naan bread for serving
Step one
Place the ginger in the food processor and chop finely. Add the jalapeños and sweet potatoes and puree. Scoop the mixture into a large bowl.
Step two
Add the lentils, onion, spinach, zest, 2 cups of panko, cilantro, garam masala, coriander, salt, pepper and turmeric to the mixture in the bowl. Mix well. With your hands, form balls and roll them in the panko. Flatten them into rounds and place in the fridge for at least an hour.
Step three
Place the burgers on a parchment-lined sheet tray. Slide into a 350-degree oven and cook until warmed through, about 20 minutes. Serve with a sliced tomato, pickled red onions and naan bread.
*Lentils need a 2:1 ratio of liquid for cooking. Place the lentils into a pan and cover with cold water. Add onion, fresh parsley or other herbs. Bring the water to a boil and simmer gently for about 20 to 45 minutes or until the lentils are tender. Drain and remove herbs if necessary.
**Pickled red onions
Ingredients:
1 cup water

½ cup apple cider vinegar

2 tablespoons raw sugar

1½ teaspoons sea salt

1 large red onion, halved and sliced
Step one
Boil the water, vinegar, sugar and salt in a small saucepan until the sugar and salt dissolve completely.
Step two
Pour the warm liquid into a bowl and add the onion. Stir to completely submerge in the liquid. Let the onions sit in the pickling liquid for at least one hour at room temperature. Serve after one hour or refrigerate for up to two weeks.
Walnut and olive dip with romaine and fresh veggies
Ingredients:
About 2 cups pitted kalamata olives

¾ cup walnuts, toasted, divided

¼ cup extra virgin olive oil or 2 tablespoons of extra virgin olive oil with two tablespoons of toasted walnut oil

1 tablespoon Dijon mustard

1 garlic clove

1 tablespoon chopped parsley

½ teaspoon smoked paprika

Chopped roasted red peppers for garnish
Step one
Finely chop the black olives and ¼ cup of toasted walnuts in a food processor. Add olive oil, Dijon mustard, garlic, thyme, oregano, sage and cayenne pepper and process until coarsely pureed.
Step two
Stir in the remaining ¼ cup of toasted and chopped walnuts. Serve with lettuce leaves and fresh veggies for dipping. This dip also makes a great sandwich spread instead of mayo. Or toss it with avocado and stuff it inside a pita pocket. Thin it out with a little more olive oil and use it to dress a salad.
Check out more recipes and nutrition tips from Piedmont's Cancer Wellness experts.
Tags
Suggested Articles