The power of giving and receiving empathy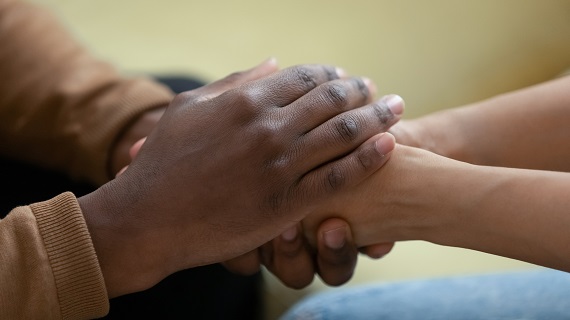 The power of giving and receiving empathy
"Empathy is the ability to understand or try to connect with the thoughts and feelings of others," says Mark Flanagan, LCSW, MPH, MA, a Piedmont outpatient oncology social worker. "It's a way to try to embody what someone else is experiencing."
The benefits of giving and receiving empathy
When you give and receive empathy, you can experience many benefits, including:
Reduced isolation. Receiving empathy can help you feel validated, understood and appreciated—and therefore less isolated.

Fewer feelings of shame. "Empathetic sharing not only reduces stigma and shame, but it also increases our well-being," says Flanagan. "Shame thrives in environments where it is not spoken about. One of the ways to break down shame is to connect with other people. One way that's possible is by having empathetic conversations."

More compassion toward yourself and others. "Brené Brown says that the ability to be vulnerable is important for our mental health and well-being," he explains. "When we don't have vulnerability, we tend to be callous toward the outside world and don't nurture our inner life."

Improved relationships. When you can give and receive empathy, you'll become more tolerant of situations and interactions that previously made you upset or frustrated. "For example, suppose your spouse is grouchy," says Flanagan. "If we don't meet them with empathy, we may respond with frustration or by shutting down and staying out of their way. But when we try to connect with them, it allows us to understand what they're going through. This can give us more bandwidth for dealing with the ups and downs in that person's life."
How to find supportive, empathetic people in your life
If you don't feel supported or understood by your family and friends, Flanagan recommends:
Reaching out to a counselor. It can be helpful to talk with someone who is objective and can connect with you in a different way than your family and friends.

Joining a peer support group. If you're seeking empathy for a particular situation—such as the loss of a loved one, an eating disorder, an addiction or a cancer diagnosis—joining a support group can help you find a community that understands what you're going through.

Give empathy. "If you want people to be more empathetic to you, try to extend it first," he says. "Be curious about the people in your life."

Set boundaries. "You can't force someone to be empathetic," says Flanagan. "If a person in your life is abusive or harmful, reduce your contact with them or establish clear guidelines for communication and behavior you will and won't tolerate."
How to develop more empathy
Empathy for loved ones
"Before you can develop more empathy, you need to have a level of curiosity and an interest in understanding," he says. "If you're not curious, there's no room for empathy. Before you try to understand, you have to want to understand."
In personal relationships, you can start by asking open-ended questions. If you find yourself at odds with someone, you can try to understand how they came to a particular decision or feeling. Flanagan suggests questions like:
Can you help me understand this a little bit more?

Can you walk me through your decision-making process?

Can you tell me how you're feeling or what you're thinking?
"Try to be curious about their context, hopes and fears," he says. "Once you start doing that, you'll naturally find things you have in common with them. These common points of connection can help you develop further empathy."
Empathy for people you don't know
Suppose you're trying to understand people with a different racial background, sexual orientation or political beliefs. If you don't personally know someone who identifies as part of that community, you can listen to podcasts, watch YouTube videos or read recommended books to learn more, Flanagan suggests.
Once you've learned more, it can also be helpful to connect with someone from that group one-on-one.
"It's easier to develop empathy for an individual," he explains. "Most often, if someone is at odds with your belief set or lifestyle, when you talk one-on-one with them, it's usually much easier to connect from an empathetic standpoint rather than talking points."
Empathy for yourself
Finally, it's essential to practice empathy with yourself.
"Don't discount what you're going through just because you're the one going through it," says Flanagan. "You are a person and deserve love and respect. Seek to understand what you're going through and not just push through the day. Check in with yourself each morning and evening through meditation, mindfulness or journaling. You'll develop greater insight into what you're experiencing, thinking and feeling."
Learn more about support during the cancer journey.
Tags
Suggested Articles