Fun, healthy breakfast ideas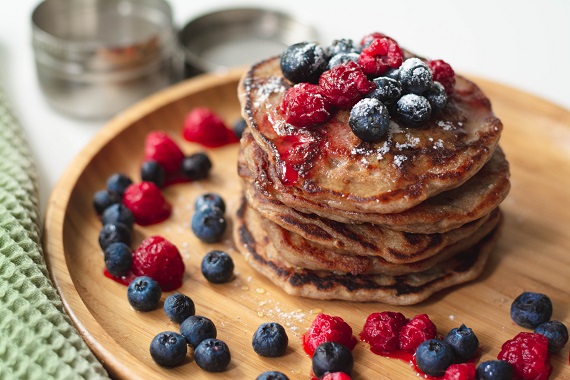 Fun, healthy breakfast ideas
Starting your day with a delicious, healthy and filling breakfast can help you have more energy and a better mood all day long. Nancy Waldeck, a chef at Cancer Wellness at Piedmont, shares her tips for making breakfast nourishing, easy and enjoyable.
"Breakfast literally means 'break your fast,'" she says. "It's an opportunity to kickstart your day with the foods you love—and that love you back. Planning ahead for what you want to eat can help get you out of the rut of the same old thing."
Waldeck's breakfast staples include:
Oats

Fruit

Whole grain bread

Eggs

Yogurt
"With this short list of ingredients and the choice of seasonal vegetables, you can create hundreds of appetizing options," she says. "Aim to build a plate that's one-quarter protein, one-quarter starch or whole grain, and half vegetables and fruit. That combo will keep you powered all morning."
One thing to avoid in the morning: Added sugar.
"So often, we eat dessert for breakfast," says Waldeck. "There's nothing wrong with a sweet treat every once in a while, but just don't make it all you eat every day. That sweet treat will contribute to a sugar crash later in the day."
What to do if you don't like to eat breakfast
If you're not a breakfast person, Waldeck suggests thinking outside of the box.
"Shake it up," she says. "Don't limit yourself to the typical 'American breakfast.' Think of eating things we don't often eat for breakfast. For example, in Asia, they often have soup for breakfast. In other parts of the world, people enjoy bread and sliced cheeses or meats."
Ready to shake up your morning meal? Try Waldeck's recipes below.
Perfect pancakes
"You'll never guess the ingredients that make these pancakes creamy and rich-tasting," she says.
Ingredients:
1 cup canned cannellini beans, drained and rinsed well

1/2 cup regular oats

2 eggs, room temperature

1/3 cup honey

1/2 cup skim milk

1/2 cup whole wheat flour

1.5 teaspoons baking powder

1/2 teaspoon baking soda

1/4 teaspoon fine sea salt
Step one
In a blender or food processor, combine the oatmeal and beans. Process until combined. Add the eggs, honey and milk and process again until well-blended.
Step two
In another bowl, toss together the flour, baking powder, baking soda and salt. Add the bean mixture and stir with a fork until just blended (a few lumps are fine).
Step three
Preheat a nonstick griddle or skillet. Drop a 1/4 cup of batter onto a pan that has been preheated on medium-high heat. Cook for about two minutes for the first side. It will be ready to flip when the edges are set and bubbles appear. Turn and cook the second side for about one minute. When done, the pancakes may be darker in color than other pancakes. Serve with fresh fruit, real maple syrup, honey or jam.
Breakfast black bean tacos with avocadoes
Ingredients:
2 eggs + 4 egg whites

1 teaspoon turmeric

¼ cup skim milk

1.5 cups black beans (if canned, drain and rinse thoroughly)

Sea salt and black pepper to taste

12 corn tortillas, heated in the microwave or oven or stovetop

½ cup jalapeño cheddar, shredded

1 cup prepared salsa (use your favorite brand or make your own)

½ cup nonfat Greek yogurt

1 avocado, thinly sliced

Sliced green onions and chopped cilantro for garnish
Step one
Whisk the eggs, egg whites and turmeric together with the milk.
Step two
Coat a skillet with olive oil. Pour in the egg mixture and the black beans and scramble for about five minutes or until done to your liking. Add salt and pepper to taste. Place a spoonful of eggs in each taco, sprinkle a little cheese and top with a dollop of salsa, non-fat Greek yogurt, a slice of avocado and the onions and cilantro.
Check out more recipes and nutrition tips from Cancer Wellness experts.
Tags
Suggested Articles