At-home date ideas to reignite the spark in your relationship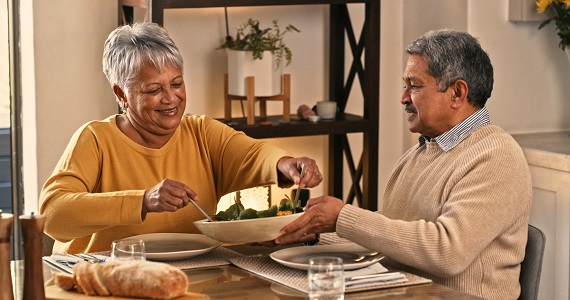 At-home date ideas to reignite the spark in your relationship
After more than two years of the COVID-19 pandemic, you've likely spent more time than ever at home with your partner. If you feel like your relationship has gotten stale, know that you're not alone and it's possible to find the spark again.
"It's easy to become habitual with our partners—with constancy and familiarity, it's easy to fall into a pattern where the relationship doesn't feel as special," says Dennis Buttimer, M.Ed, CEAP, RYT, CHC, a life and wellness coach at Cancer Wellness at Piedmont. "During the pandemic, we've spent more time together, which is good, but on the other hand, you might begin to take the other person for granted. Ideally, you want to keep things as eventful and positive as you can."
This takes intentionality.
"You must set an intention that you want to keep your relationship alive and fresh," he says.
Here are some ideas to add zest back to your relationship.
Try something new with your partner
When you and your partner do something novel together—whether it's learning to speak a different language, cooking a new cuisine or watching a documentary—you may notice an extra sense of partnership and love.
"Getting out of your comfort zone with your partner can be a powerful growing experience," says Buttimer. "This is because you strengthen different parts of your brain when you learn something new."
Think back to when you first met: You likely had many exciting adventures and engaging conversations. Getting out of your comfort zone can help recreate those powerful feelings. Speaking of when you first started dating…
Reflect on the early days of your relationship
Buttimer suggests remembering what you used to do in the early stages of your relationship—activities that you both found fun and interesting to do together.
"Bring some of those activities back to the table," he says. "It can stimulate your relationship if it's gotten ho-hum lately."
Ask your partner thought-provoking questions
Another way to reconnect is to ask each other intriguing questions. Both parties should agree to answer the questions, keep things light and avoid negative topics. Here are some ideas from Buttimer to get you started:
What would you say is our funniest memory together?

What times in our relationship have you felt closest to me?

What are the top five characteristics you like, admire or love about me?

If we could travel anywhere in the world, where would it be?

Who is your favorite actor?

What is your all-time favorite movie?

What is the funniest movie you've ever seen? The most uplifting?
Creative and easy at-home date night ideas
Instead of takeout and movie again, try a fresh new at-home date night activity.
"When proposing a date night idea, think about what the other person would prefer," says Buttimer. "When you were going on a date in the early days of your relationship, you likely put your best foot forward and came up with activities the other person would like."
Here are some ideas to spark your imagination:
Build a fire and spend the night by the fireplace.

Learn a new language together.

Play a two-person game like Jenga or Uno.

Host a themed movie marathon (such as Star Wars, Harry Potter, historical dramas or 80s movies).

Have an at-home tailgate party while cheering on your favorite team (don't forget the appetizers).

Make fondue.

Camp out in the living room and have an indoor picnic.

Cook a fancy dinner together, light candles and play your favorite music.

Buy a set of question cards and take turns asking each other interesting questions (you never know what you'll learn!).

Write out your list of dreams (places you'd like to go, activities you'd like to do, etc.).

Watch your favorite childhood movies.

Host a DIY pizza night.

Work on a jigsaw puzzle.

Try a new hobby together, such as painting, breadmaking or woodworking.

Bake sweet treats together.

Take personality tests, such as Myers-Briggs Type Indicator, the love languages and the Enneagram.

Make ice cream sundaes.

Work out together by following along with a fitness app or YouTube workout.

Listen to music by candlelight.

Offer to watch a friend or family member's child or pet and plan fun activities to do with them.

Plan a future trip.

Scroll through old photos from previous holidays, events or vacations.

Have breakfast in bed. Break out the fancy coffee, make pancakes and place them on a nice tray to enjoy from the comfort of your own bed.

Play games. Whether you enjoy video games or a classic board game, some friendly competition can be a lot of fun.

Have an at-home spa day. Give each other massages, apply face masks and wrap up in nice, fluffy robes.

Have a dance party or follow along to YouTube dance tutorials.

Attend a digital performance, concert, event or class.

Redecorate or rearrange a room in your home.
With some time, intentionality and love, you can add fun, romance and adventure back to your relationship.
Learn more about support during the cancer journey.
Tags
Suggested Articles