Eat seasonally: Flavorful and healthy spring recipes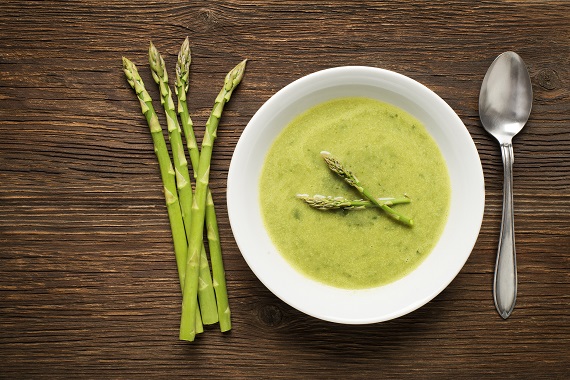 Eat seasonally: Flavorful and healthy spring recipes
Eating seasonally means choosing vegetables, fruits and herbs that are in-season where you live. Choosing seasonal ingredients has many benefits, says Nancy Waldeck, a chef at Cancer Wellness at Piedmont.
"Eating seasonally means you are enjoying produce at the peak of its flavor," says Waldeck. "There's nothing better than a crisp, crunchy salad with spring greens and strawberries, or pencil-thin asparagus that's been lightly steamed and topped with crunchy almonds."
Shopping seasonally and locally also has economic and environmental benefits.
"It's good for our local economy when we purchase ingredients from our farmers, whether at the grocery store or the farmers market," she says. "We're also helping the environment by reducing the distance that fruits and veggies travel to get to the stores where we shop."
What's in season in the spring?
"Here in Georgia, spring means bright colors," says Waldeck.
Her favorite spring fruits and vegetables include:
Arugula

Kale

Swiss chard

Spinach

Baby lettuces

Peas

Strawberries

Radishes
Ready to add fresh, colorful spring produce to your plate? Try the following recipes created by Waldeck.
Creamy spring asparagus soup
Ingredients:
2 tablespoons extra-virgin olive oil

2 cups chopped yellow onion

1 chopped serrano or jalapeno pepper, ribs and seeds removed

1 teaspoon turmeric

1 teaspoon ground coriander

1.5 teaspoons garam masala

12 to 16 ounces asparagus, coarsely chopped

3 garlic cloves, minced or grated

2 cups vegetable stock

2 cups coconut milk

Sea salt and freshly ground black pepper to taste

Garnish with asparagus, chopped peppers and unsweetened coconut
Step one
Sauté the onion, pepper, turmeric, coriander and garam masala in the oil until the onion is soft.
Step two
Add the asparagus and sauté for another five minutes. Add the garlic; cook and stir until fragrant.
Step three
Add the vegetable stock, bring to a boil and then simmer for 15 to 20 minutes.
Step four
Remove from the heat and let cool for a few minutes. Use the immersion blender to puree, then add the coconut milk into the soup.
Step five
Warm gently for a few minutes, then serve topped with your choice of garnish.
Strawberry avocado salad with honey-lime dressing
Ingredients:
1 clamshell (about 5 to 6 ounces) baby spinach

About 6 cups quartered bright red strawberries

¼ cup rice vinegar

¼ cup lime juice

2 tablespoons honey

2 teaspoon Dijon mustard

1/3 cup extra-virgin olive oil

Sea salt and freshly cracked black pepper

1 avocado, sliced

2 tablespoons toasted sesame seeds* and chopped mint
Step one
Wash and dry the spinach well. Place in the bottom of a salad bowl and top with the strawberries.
Step two
In a food processor, blend the vinegar, lime juice, honey, mustard, mint and olive oil. Season to taste with salt and pepper.
Step three
Drizzle the dressing over the salad, tuck a few slices of avocado on the side and top with sesame seeds and chopped mint.
*The easiest way to toast sesame seeds is in a dry sauté pan over medium-high heat. Stir often and don't leave the pan alone—sesame seeds go from raw to burnt in just seconds.
Spring green salad
Ingredients:
1 package spring greens, baby kale or arugula

1 package fresh baby spinach

1 bag frozen edamame

1 cucumber, sliced with skin on

1 zucchini, chopped with skin on

¼ cup chopped dill fronds

1 bunch asparagus, lightly steamed

Sea salt and freshly cracked black pepper

Toasted sliced almonds for garnish
Step one
Add the washed greens, spinach, edamame, cucumber, zucchini and dill fronds to a large bowl.
Step two
Drizzle in the spring green dressing (recipe below) and toss well.
Step three
Place the greens on the plate and top with asparagus. Lightly salt and pepper to taste and garnish with almonds.
Spring green dressing
Ingredients:
20 large basil leaves

1 handful fresh dill

¼ to ½ cup sherry (or apple cider) vinegar

2 cloves garlic

½ to ¾ cup extra-virgin olive oil

Sea salt and freshly cracked black pepper
Puree all the ingredients in a food processor.
Check out more recipes and nutrition tips from Cancer Wellness experts.
Tags
Suggested Articles