Healthy make-ahead breakfast ideas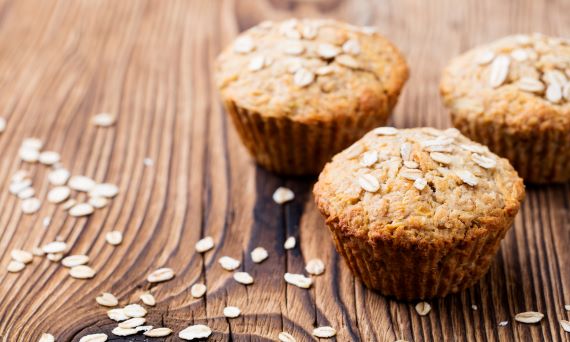 Healthy make-ahead breakfast ideas
Prepping your morning meals ahead of time can get your day off to a healthier, less stressful start.
"I love make-ahead breakfasts because you don't have to decide what to eat," says Nancy Waldeck, a chef at Cancer Wellness at Piedmont. "If there are already healthy options in the fridge, it's an easy choice for hectic mornings."
She says that eating a filling, enjoyable breakfast can support a healthy metabolism and help you avoid overeating throughout the day. The key is planning ahead for busy mornings.
Simple make-ahead breakfast ideas include:
Quiches

Egg muffins

Fruit muffins

Overnight oats

Chia pudding

Breakfast casseroles

Smoothies
How to prep meals for breakfast
Waldeck says washed and cut fruit can be kept in a covered bowl for two to three days. She advises separating each fruit by variety.
Recipes for baked breakfast dishes—like quiche and the French toast recipe below—can be prepared and kept in the refrigerator for three to five days.
Storing ingredients or dishes in individual containers is another time-saver.
"I love making breakfast recipes in individual containers so I can pull them out one by one," says Waldeck. "Otherwise, just wrap the dish securely before placing it in the fridge."
Avoid putting bread in the refrigerator: It will dry out and lose its texture. Instead, Waldeck recommends slicing off what you plan to eat in the next few days, then storing the remaining bread in the freezer in two- to three-day portions.
Feeling inspired? Try these breakfast recipes by Waldeck.
Cinnamon pomegranate oranges
"Juicy, tart, sweet and drippy, this is easy to make and keeps great in the fridge for a couple of days," she says. Try serving the fruit on top of low-sugar yogurt.
Note: If you can't find pomegranate molasses, double the amount of honey in the recipe and scatter pomegranate arils over the top.
Ingredients:
8 large navel oranges, sliced into thin rounds

8 large dates, pitted and chopped

¼ cup almonds, toasted and chopped

3 tablespoons honey

3 tablespoons pomegranate molasses (or to taste)

½ teaspoon cinnamon

Pinch of salt
Place orange slices on a large platter, overlapping. Top with the dates and almonds. Whisk together the honey, pomegranate molasses, cinnamon and salt, and drizzle over the platter.
Taste and Savor oatmeal muffins
Ingredients:
1 cup almond, oat, soy or rice milk

1 cup old-fashioned (rolled) oats

1 large egg

1/4 cup avocado, grapeseed or other neutral-tasting oil

1 cup whole wheat pastry flour (or 2/3 cup all-purpose flour and 1/3 cup whole wheat flour)

1/4 cup sugar (coconut, raw, Demerara or brown)

1 teaspoon baking soda

1/2 teaspoon fine sea salt

1 teaspoon cinnamon

¼ cup chopped toasted nuts, chopped dried fruit, fresh berries, shredded carrots or shredded parsnips
Step one
Preheat your oven to 425 degrees. Grease 12 muffin cups or prepare with liners. In a small bowl, combine milk and oats. Soak for 15 minutes.
Step two
In a separate bowl, beat together the egg and oil; stir in the oatmeal mixture. In a third bowl, sift (or whisk) together flour, cinnamon, sugar, baking soda and salt. Stir flour mixture into wet ingredients, just until combined. Spoon batter into prepared muffin cups until cups are 2/3 full.
Step three
Bake in preheated oven for 15 to 25 minutes or until a toothpick inserted into the center of a muffin comes out clean.
Baked maple and cinnamon French toast
Ingredients:
6 one-inch-thick slices of whole wheat bread

4 large eggs

2 cups almond milk (or milk of your choice)

1/2 cup pure maple syrup

2 teaspoon vanilla extract

1/2 teaspoon cinnamon
Step one
Preheat the oven to 425 degrees. Spray a large baking pan or dish with non-stick spray. Arrange the bread slices in a single layer - the bread should fit into the pan snugly.
Step two
Combine the eggs, whites, milk, maple syrup, vanilla and cinnamon in a bowl. Whisk to blend and then pour over the bread. Let soak until all the egg mixture is absorbed, turning the bread after about 10 minutes.
Step three
Bake the toast in your preheated oven for about 25 minutes until golden brown.
Make-ahead option
You can also assemble the French toast and place it in the fridge overnight. Remove the dish from the refrigerator and let it sit on the counter while the oven preheats. When it reaches 425 degrees, bake in the oven for about 30 to 35 minutes, or until golden brown.
Top with maple cinnamon syrup (recipe follows).
Maple cinnamon syrup
Ingredients:
1 cup pure maple syrup

1/2 teaspoon ground cinnamon
Combine the maple syrup and ground cinnamon in a small saucepan. Bring the syrup to a simmer. Remove from the heat. Place the baked French toast on heated plates, top with the warm maple cinnamon syrup and serve.
Check out more recipes and nutrition tips from Cancer Wellness experts.
Tags
Suggested Articles