Preventing weight gain during breast cancer treatment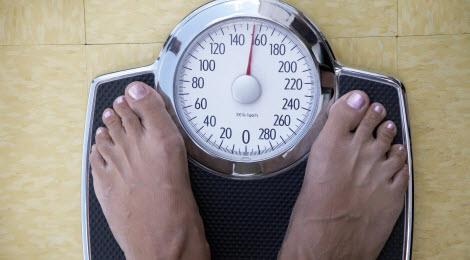 Preventing weight gain during breast cancer treatment
Breast cancer patients tend to gain more weight than other cancer patients while they are undergoing treatment. Several studies, including one published in the Journal of Clinical Oncology, found women undergoing breast cancer treatment experience an average five- to 10-pound weight gain.
"It's hard because a woman is battling cancer, then weight gain may cause self-image issues," says Shayna Komar, a licensed and registered dietitian at Cancer Wellness at Piedmont. "She may now be uncomfortable with her weight, as well as dealing with a scary diagnosis."
Why cancer treatment can lead to weight gain
So what exactly causes breast cancer patients to gain weight? Komar says there are several factors:
Chemotherapy. While the treatment is often necessary and lifesaving for patients, it can alter the body's metabolism, which leads to excess pounds.

Sedentary lifestyle. It's no secret that cancer treatment can leave a patient wiped out, but Komar encourages her clients to "walk their way through cancer treatment."

Comfort foods cravings. Cancer treatment is mentally, emotionally and physically taxing, so it can be hard to turn down the freshly-baked cookies from a concerned neighbor.
How to combat weight gain during cancer treatment
While good nutrition is important whether or not you have received a cancer diagnosis, it can be especially powerful in helping cancer patients bounce back faster from treatment. Komar recommends the following strategies to maintain weight, strengthen the immune system and increase energy levels:
Make sure your diet is full of fruits and veggies — 80 percent of your diet should be comprised of plant-based foods.

Eat the most colorful foods possible — they typically contain the most nutrients.

Consume protein with every meal. Protein is important for patients undergoing chemotherapy. Choose lean protein sources like a chicken breast, fish, beans and other legumes. But keep an eye on your meat, cheese and egg consumption: Komar recommends no more than 20 percent of a breast cancer patient's diet be made up of animal products.

Enjoy hearty veggie soup with lots of colorful ingredients. Broth-based soup is a healthy comfort food – low-calorie and nutrient-dense. Add some beans for a good source of protein. Be sure to choose a soup that is made with reduced-sodium broth.

If it's appropriate for your diagnosis, Komar suggests eating a salad a day. Salads are low-calorie, fiber-rich and full of cancer-fighting nutrients.

Skip sugary drinks, like smoothies and sweetened coffee beverages.

Avoid food that is fried, high in fat or loaded with added sugar.

You don't need to run a marathon, but you need to keep moving every day.

Limiting unhealthy calories can help you maintain your weight and keep your energy levels up.
Learn more about nutrition for cancer survivors.
Tags
Suggested Articles